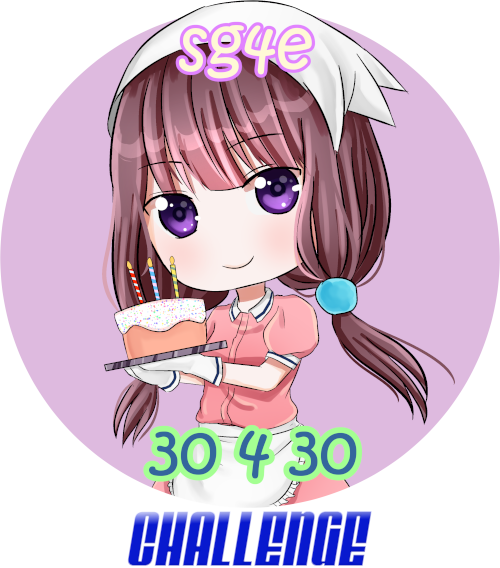 What's the 30 4 30 Challenge?
The "30 4 30" originated in 2019 in honor of sg4e's 30th birthday. During the 30 days of November leading up to his December 1st birthday, sg4e beat 30 different games.
The 30 4 30 is returning this year, but in a different form; the gameslist has been reduced from 30 to 10, and everyone is encouraged to participate. Anyone who completes the 30 4 30 within the specified timeframe will have their Twitch/Youtube/Twitter/whatever ID they prefer inscribed on this site in recognition of their accomplishment. So... are you up for the challenge?
The 30 4 30 Challenge begins on November 12, 2020 at 9PM EST (UTC-5) and ends on November 30, 2020 at 11:59 EST (UTC-5). A (casual) race will be held for each of the 10 games as scheduled below, but participation in these races is not required to complete the 30 4 30 Challenge. You may start and finish each game in the challenge at your own pace, as long as you do not begin your save file/progress before the start date of the event, and as long as you finish before the end date. See official rules in the section below.
Be sure to check back here before the start of the challenge for any last-minute changes/updates.
Revisions
This page has been revised since its original publication. Please be aware of the following revisions:
The Mario Golf GBC clear condition has been clarified.
The Mario Golf GBC race starttime has been revised to immediately after the Mario Tennis N64 race on Friday night.
The game settings for Monopoly 64 completion have been clarified. See the section below.
Super Mario Kart's goal has been changed to All Cups 100cc. Race entrants must race in 100cc, but for the 30 4 30 Challenge completion credit, either 100cc or 150cc is acceptable. 50cc is not acceptable. The credits must roll to count as completion.
Super Mario Kart Battle Mode tournament bracket and sign-up links have been added.
Days of the week have been added to the race schedule. This is for convenience and has not changed the date of any races.
Games and Objectives
12th
Thurs
Donkey Kong Country 2: Diddy Kong's Quest
Any%
SNES
9PM
13th
Fri
Monopoly
Any% Intelligent CPU*
N64
9PM
14th
Sat
Yu-Gi-Oh! Forbidden Memories
Any% No RNG Manipulation
PSX
1PM
15th
Sun
Super Mario Kart
1P All Cups 100cc
SNES
3PM
16th
Mon
Kirby's Dream Course
Defeat Dedede
SNES
9PM
17th
Tues
Pokémon Red
Key Item Randomizer, beat Blue
GB
9PM
18th
Wed
Spanky's Quest
Any%, no passwords early
SNES
9PM
19th
Thurs
Super Mario RPG: Legend of the Seven Stars
Chest Randomizer, beat Smithy
SNES
9PM
20th
Fri
Mario Tennis
Mushroom, Flower, and Star Cups
N64
9PM
Mario Golf
Story Mode All Clubs, created characters only†
GBC
After ↑
*Standard Game with 3 AI opponents at Intelligent difficulty. Movement animations can be turned off. All other settings must be default. Be sure to include the game setup in your VoD submission. Savescumming is okay. You must win the game.
†Must create a new character; cannot use Mario or Luigi. Must come in 1st place in all 5 tournaments. Note that the credits will roll after winning the 4th tournament, but you must access Tournament Mode once more to unlock Peach's Cup and access the True Ending. (You may reset during credits.)
Schedule as Google Spreadsheet
Randomizer Seeds
The following specific seeds must be completed for the 30 4 30 Challenge. You are not required to play these seeds blind (no 30 4 30 game must be played blind). Guides tailored to the seeds and a spoiler log have been provided if you would prefer to use them.
Pokémon Red
Super Mario RPG: Legend of the Seven Stars
Super Mario Kart Battle Tournament
There will be a Battle Mode tournament in Super Mario Kart on Sunday the 15th after the All Cups race. The tournament will be conducted over the Switch Online version of the game. See rules below.
To sign up, visit https://challonge.com/tournaments/signup/dAsR2BB7dR.
Submit Your Completion
Submit your completion of the challenge (list of VoDs) via Google Forms.
Challenge Champions
Announcement video
Rules
General Rules
The start time of the event is November 12, 2020 at 9PM EST (UTC-5). You may not load any save file created before this time. For Spanky's Quest, you may not use any password except the password to the 1st stage (to skip the opening cutscene) until the game has displayed that password to you during a playthrough after the start of the event.
Event games must be streamed, or local-recorded and uploaded to Youtube/Dropbox/anywhere they can be publicly accessed. These videos must remain accessible at least until December 7, 2020. For Twitch, make sure you have enabled VoD storage and highlight the VoDs because non-Prime/Turbo accounts only have 14 days' storage.
You must submit your proof of completion via the form above ("Submit Your Completion") before November 30, 2020 at 11:59 EST (UTC-5).
You may complete any of the event games in multiple sittings as long as all of the gameplay is submitted.
You may use any Nintendo console to play the event games, or any Playstation to play Yu-Gi-Oh! Forbidden Memories. However, you may NOT use any savestate-like capabilities such as the Switch-specific save/load functions; you may use only the native save/load capabilities of the original game (in Donkey Kong Country 2, for example, Wrinkly's College to save, and power off/on or reset to load).
You may use an emulator to play any of the event games as long as the emulation behavior is close to console. However, you may NOT use any emulator capabilities that are not available in the original console release. This includes, for example, savestates and speedup.
You may make progress in most of the games at any time during the event, including before their assigned race days. However, for the randomized games, a specific event seed must be completed. These seeds will be available on this site after their races, and therefore cannot be begun before their races.
Feel free to use or not use the official event logo anywhere in your 30 4 30 Challenge content: Download event logo.
Super Mario Kart Tournament Rules
You must have access to Switch Online to participate.
The tournament will take place on November 15, 2020 after the race and will be administered on Challonge. The bracket is at https://challonge.com/3z82zxsw.
The tournament will be a single-elimination, randomized bracket.
All matches will be Best of 5 except for the Finals, which will be Best of 7.
Game 1 will always be held on Battle Course 1. Subsequent stages will be picked by the loser of the previous game. There are no restrictions on picking the same stage multiple times.